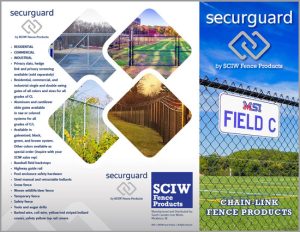 Download the new SecurGuard Tri-Fold Brochure
Snow Fence
SCIW Fence Products stocks both wooden and plastic snow fence which is a must for winter safety. Snow fence is also used as a sand or wind break fence and temporary safety fence.
We distribute a durable wooded snow fence constructed of wooden slats secured together with galvanized wire to support heavy drifts of snow. Our plastic snow fence is light weight and durable which allows optimum control of drifting snow.
Construction Fence
SCIW distributes plastic mesh barrier safety fence commonly known as construction fence. We offer a light weight, durable construction fence in green or standard orange to meet your application needs.
Agriculture / Deer / Woven Wire Fence
SCIW Fence Products distributes woven wire fence used for an array of applications such as preventing wildlife from entering your gardens or any part of your property and to contain horses or other livestock. Our woven fence is available in a variety of heights and configurations to meet your needs.
Need a professional installer or reseller? Call us; we can help locate one in your area.
We do not have retail pricing; we only sell wholesale directly to the trade.
Interested in wholesale please contact us.