Homeowner Resources
As a homeowner, it is very important to educate yourself on the different types of fence available for your projects before you begin shopping for and selecting a contractor to complete a fencing project. Here are a few tips:
Reach out to your town or municipality to determine what type of fence you are allowed to install. In the case of a swimming pool, there may be statutory requirements you must follow. Every state, county, and town may have its own statutes and codes. You must familiarize yourself with these laws before purchasing a fence, or hire a contractor that knows these laws.
It is important to find a reputable, licensed fence installer who can provide a minimum of three references for projects they have installed similar to yours. Many installers require a deposit, so make sure to a sign a contract with the agreed upon final cost before issuing the deposit. Obtain and keep a copy of the contract for your records.
Educate yourself about the different quality grades of fence products you are having installed. There is a wide range of quality in the vinyl (PVC) and aluminum fence on the market that results in a wide range of material costs. Keep in mind that the least expensive product is ALWAYS the inferior product when it comes to fencing. It is well within your rights to research the products and have your contractor provide a detailed description of all of the components that will be used in the installation of your fence.
Hometown Vinyl Cleaning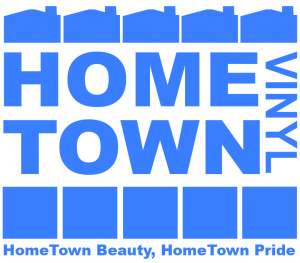 Garden Hose
Bucket
Rag / Cleaning cloth / Sponge
Ordinary dish soap
Materials you will need to restore its original beauty:
1. Add as much or as little soap to your bucket of water creating a solution as weak or strong as you desire.
2. Soak your rag / cleaning cloth / sponge with the solution you just prepared, wring out some of the excess solution
3. Wipe the fence or railing to gently remove dirt and debris (very few elements are capable of sticking)
4. Once you are finished wiping, turn on the garden hose and thoroughly rinse soap to eliminate creating a film which causes dirt and debris to stick. If this occurs a gentle scrub will remove the dirt and debris. Your fence and railing will be restored to its ordinal beauty
50 Year Limited Warranty
SCIW Fence Products warrants to the consumer purchaser that its vinyl fencing and railing products, which are sold and marketed under the Hometown Vinyl product line, are free of defects in workmanship and materials and that, in the course of normal and proper use, its vinyl products will not chip, peel, blister, flake, or have abnormal weathering colorations.
This non-prorated 50 year transferable warranty is the strongest in the industry. For residential consumer purchases, the warranty shall be fully effective without proration for fifty years from the date of purchase or until the warranted materials are moved from their original location and/or are altered from the original Hometown Vinyl design. Properly registered Hometown Vinyl warranties are eligible for a one time transfer by the original residential consumer owner to a subsequent residential consumer purchaser of the home on which the original warranted products were installed.
For commercial purchases the warranty shall be a non-prorated 25 year warranty. This warranty shall be in effect without proration for 25 years or until the original commercial property owner sells the property or until the warranted materials are moved from their original location and/or are altered from the original Hometown Vinyl approved designs. Warranties for commercial purchases are not transferable.
This warranty is void if any of the following occurs with respect to the product: a) improper installation, b) misuse, abuse, neglect, vandalism, or alteration, c) impact of foreign objects, d) contact with paints, chemicals, or other substances. Damages due to fire, violent storms, earthquake, ground movement, tornado, hurricane, or acts of God are not covered in any way under this warranty.
This warranty is void if all structural parts were not supplied by Hometown Vinyl. Hometown Vinyl does not recommend or approve this product for all possible end use applications. Your local building inspector should be consulted regarding its safety and applicability for intended usage, especially as a swimming pool barrier.
Warranty registration cards will be provided to authorized dealers which will be given to the residential consumers upon completion of your project. Registration cards must be mailed to the address below. Should a warranty issue occur, you should contact the authorized dealer as well as SCIW Fence Products immediately.